Voorafgaand aan dit blogje: ik heb nooit 40K gespeeld. En hoewel ik nooit nooit zeg, behalve als het over het dragen van witte gymsokken gaat, acht ik de kans dat ik 40K ga spelen op ongeveer nihil. Zero. Nulla nixum minimalis. De kans dat ik een keer levende kikkers eet is groter.
Het hele genre zegt me helemaal niks. De figuurtjes zijn metallic robocops. De prijs is terroristisch hoog – voor één robocop kun je in Colombia twee journalisten vrijkopen. De zogenaamde fluff is kinderachtige deathmetal-onzin over het eind der tijden, gemengd met superheldendom, een snufje Darth Vader en tentakels. Het is allemaal zo plat als een dubbeltje.
En dan heb ik het nog niet eens gehad over de gemiddelde 40K-speler, een net Transformers ontgroeide puistenkop zonder vriendin met iets te rijke ouders – of in de iets oudere versie een nerd met hipsterbaard of lang haar die ruikt naar okselzweet en oude gympies. Doe mij maar Napoleon: betaalbare modellen, heroïek, geweldige échte geschiedenis. Een korporaal die keizer wordt, de wereld verovert, verbannen wordt, een onwaarschijnlijke comeback maakt maar bij Waterloo net niet wint, en als banneling geweldige memoires schrijft – dat tart toch iedere fantasie?
Niet trouwens dat wij Napoleonisten zo veel beter, althans ontzettend veel beter, zijn dan 40K-ers. Wij histospelers – we zijn doorgaans of kaal en te zwaar, of te zwaar en prostaatklachten, of we zijn prostaatlijders met een kale kop. Maar samen lijden kweekt een band. Daarom dus heb ik meer te schaften met andere kale dikke moeilijke plassers op Bruce Willis lijkende levensgenieters die tenminste de tijd nemen op het toilet, pijnzeikers zoals ik, dan met ongewassen puistenkoppen en hun 40K.
Maar ik ben zeer bevooroordeeld. GW is een dikke speelgoedreus geleid door een accountant en met haaiadvocaten die amateurblogs uit de lucht procederenvanwege auteursrechtschendingen. Historische regelsets daarentegen worden gemaakt door intellectuele Britten met vlinderdasjes die er geen cent aan verdienen.
Ondertussen is er echter een nieuwe editie 40K en moet je als jezelf respecterend wargamer nagaan of dit systeem toch misschien toekomst heeft. Voor jezelf of voor anderen. Ik ken geen puistenkoppen om het spel tegen te spelen dus ik heb wat recente recensies gevonden. Gek genoeg stemmen die mij positief. Ik probeer door mijn vooroordelen heen te zien. Dus –
Waarom deze editie?
Laat voorop staan dat regelsystemen van miniatuurfabrikanten voornamelijk marketinginstrumenten zijn om meer miniaturen te verkopen. Games Workshop is er groot mee geworden. Andere fabrikanten (Warlord, Battlefront) hebben het model overgenomen. Age of Sigmar kwam voornamelijk tot stand om een nieuwe doelgroep van jongere spelers te bereiken met nieuwe modellen.
40K8th Edition is volgens mij voornamelijk uitgebracht om met eenvoudiger geredigeerde regels voeling te blijven houden met de jonge doelgroep die weinig geduld heeft met dikke boeken en iets wat nog lijkt op een tabel. Het systeem moet zich bovendien verweren tegen modieuze andere systemen zoals Gates of Antares van Warlord en Infinity, van Corvus Belli. Tenslotte speelt dat 'het uitbrengen van een vernieuwde versie' op zichzelf een marketing-instrument is, het schept hype, fuzz, verwachtingen en spanning en werkt dus positief op verkoop. Zoals van sneakers en auto's ook steeds nieuwe modellen komen.
Ook zonder het spel ooit gespeeld te hebben kun je aan de hand van de commentaren beoordelen of het spel a) toegankelijker is geworden b) beter is gaan concurreren met andere spellen. Dat lijkt te zijn gelukt.
Wat betreft bronnen: de beste en meest serieuze recensie is van Sigur Skwarl in Tale of Painters. De gaming geeks van Creative Twilight schreven een aardige recensie met testslag. Andere onafhankelijke reviews staan op Geekadelphia en Geekdad. De hoofdpunten samengevat:

Het is terug naar de basis
Geekdad: "When I got into 40K in 4th edition, the rules were more abstract than what we have with 7th edition. Then, from 5th edition on, we got rules that became increasingly more realistic, and in turn complicated.(…) I thought I wanted those things. The result though was a game that had grown too big for its own good. Balance became impossible to achieve. Games were long and burdened by so many rules and mechanics that it was unenjoyable – for me anyway. I'll be honest, so far 8th edition seems like everything I want out of 40K.
En Sigur:
"As we all are aware, ever since late summer 1998 40k's been built on the 3rd edition rules and since then they've done their dearest to make those actually work. (…) 8th edition is here now and once again changes things, mostly by trying to boil down the immense load of various things it has to carry on its shoulders."

Het spel is vooral gestroomlijnder
De achtste editie is vooral een aanpassing. Het is niet (zoals AoS) een totale verandering. Sigur:

"How deep do those rules changes go? Not as deep as one may think at first glance. Most of them I believe were introduced just to make the rules more efficient, covering vehicles, flyers, monsters and infantry alike"
Geekadelphia: "While the changes to the game are substantial, I think that streamlined is a more appropriate term to use when describing the new rules."
Geekdad:
"This is not the complete rules overhaul that the fantasy strand received, but more a simplification; a paring down of a rules system that had become bloated, with bolt-ons and addenda"
De basisregels zijn (maar) 8 pagina's. Uitbreidingsregels zijn verschoven naar supplementen. Creative Twilight moest voor het eerste spel toch nog redelijk wat opzoeken in supplementen en dat viel tegen.
Het opzetten is sneller
Sigur: "Units have a Power Level each (…) The combined Power Level of an army is an easy and fast way to calculate the relative strength of what the players put on the table.(…) This feels like a mid-way between just throwing your models on the table and calculating exact points values. Very interesting indeed."
Creative Twilight meent:
"I don't have to stress over list building like before. Making a list for 7th got to the point where I just hated it. I knew that no matter what I put together, I would get my head caved in by an opponent who could build a better list. (…) List building is still a vitally important part of 8th edition, but it's also not the end-all-be-all either."

Eenheden hebben overzichtelijke datasheets
Geekdad: "Datasheets rule the day. Much as AoS has its warscrolls, X-Wing has ship cards, and Batman Miniature Game has its hero cards, every unit or model has a datasheet. New boxes of miniatures will come with a datasheet to use in play.

De regels voor bewegen, schieten en terrein zijn eenvoudiger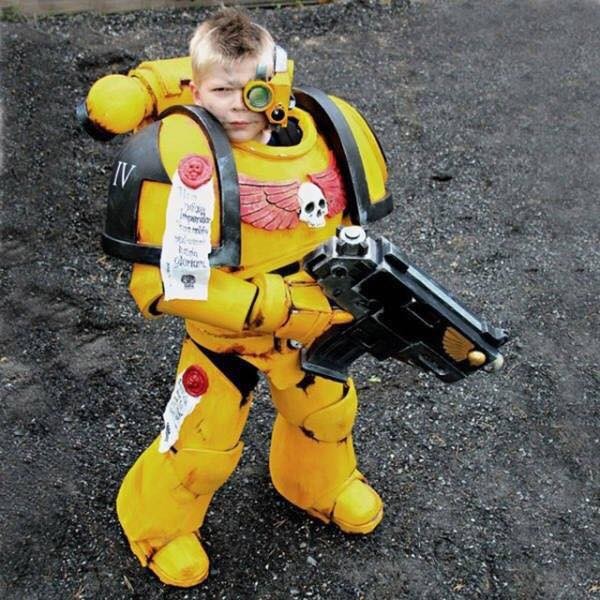 Het ideale fun4all-spelletje zoals ik speelde toen ik tien of twaalf was, ging erom dat ik mijn soldaatjes zoveel mogelijk en alle kanten op kon bewegen en alle kanten op kon schieten. Tactiek, omsingeling of schijnaanvallen waren onzin, gewoon vooruit en veel schieten. De playmobil-aanpak, zogezegd. 40K 8ste editie doet dat nu ook.
Sigur: "Targets can be chosen as you wish as long as they are within range. You even may split fire, so if you activate an IG infantry squad your guardsmen pepper a unit of chaos cultists with lasgun fire while the chap with the missile launcher fires a krak missile at a unit of Chaos terminators. As there are no dedicated rules for vehicles anymore this also means that your Leman Russ Battle Tank may fire its battlecannon at one target and the hull lascannon at another."
Creative Twilight schrijft over terrein:
"Terrain no longer slows down movement. It will remain a necessity to block line of sight, create firing lanes, alter approaches, etc., but its impact is lessened (I feel), in 8th. I'm more than fine with that though. Another subtle change is with transports and movement. You can disembark within 3″ of a transport (no more access points) before it moves, and then proceed to move, shoot, and charge. That effectively gives you a 9″ movement, and a charge threat range of 21″ from where you started the turn."

De regels bevorderen snel en veel aanvallen
Aanvallen is niet gelijktijdig maar om de beurt. Wie aanvalt kan in zijn fase eenheden uitschakelen die niet meer kunnen terugslaan. Als eerste aanvallen geeft dus voordeel.
Creative Twilight: "As everyone knows, charging in 40K 8th edition is crucial. In addition, getting multiple charges in a single turn is pretty important as well. Every unit that charged swings first."
Sigur:
"You may have noticed that the Initiative stat is gone. Units which charge always strike first, even with power fists and such. In fact, the Fight phase starts by ALL units who charged attack, then all units of the inactive player who still are on the table may fight back. Even vehicles have an Attacks stat now and a strength stat and so on".
Er schijnt wel iets meer mogelijkheid te zijn om een aanval over te nemen of de tegenaanval in te zetten.
Creative Twilight: "Now, this is where a really important stratagem comes in, counter-offensive. This costs 2CP (command points), and lets you interrupt the fight sequence. After your opponent has attacked with one of his charging units, you can use counter-offensive to choose a unit of yours to fight. Counter-offensive let me save units twice that would have otherwise been destroyed."
Creative Twilight meent dat close combat aan subtiliteit gewonnen heeft, iets wat Sigur betwijfelt:
"8th edition 40k still is I-Go-You-Go, it's still Move-Shoot-Bash-Morale, you still get to activate all your units when it's your turn, you can still put a LOT of toys on the table and remove them equally fast, it's still "roll to hit, roll to wound, roll to save, remove casualties" and so on. And all of these rolls didn't change much either and the results will still be largely the same".
40K heeft 'alles of niets' verlaten
Geekadelphia: "In previous systems games became a race to see if you could could keep your big monster alive longer than your opponents. In 8th edition these giant threats now suffer combat damage, and decrease performance as they pile on wounds. This shift in the game makes the game feel much more cinematic than in previous editions. It also encourages players to make new choices in how they want to play. After all, giant creature that has to limp along on one leg isn't anywhere near as threatening as a large group of smaller enemies that are at full strength. You'll need to think quickly and anticipate your enemies moves to achieve victory."

Maar moraaltesten bekorten het spel
Sigur: "This is straight out of Age of Sigmar as far as I know. At the end of each turn, you have to check for morale on each unit who took losses this turn. Roll 1d6, add the losses if the total exceeds the unit's Ld the unit loses additional figures."
Creative Twilight: "More importantly, morale has a big impact. The biggest thing that morale now does is remove entire units. Yep, take enough casualties and you'll find yourself unable to pass the check and losing the few models that remain. This means that large squads will again be useful, and high leadership has a real value once more.
In een uurtje ben je al klaar
Creative Twilight: "A game this size taking an hour seems reasonable with experience."

Geekadelphia: "I was able to play two games of 40k in the time it used to take to play one. When a game could run around three hours, it was a welcome change.The fact that the games are faster means that focusing and keeping the play/action/engaging is a lot easier. When gameplay doesn't feel like a complex math problem, It's easier to remember that it's a fast paced war that your armies are fighting."

De miniaturen zijn groter
Misschien vanwege digitale sculpting, misschien omdat grotere figuren gemakkelijker te schilderen zijn en misschien omdat figuren uit oudere edities dan sneller vervangen worden door de nieuwe miniaturen. Misschien is alle drie waar.

Het mag wat kosten
Je betaalt 125 euro voor 53 modellen en de regels, of 45 euro voor alleen het regelboek. Dat is fiks duurder dan een Bolt Action (65 euro voor een starterdoos met 36 miniaturen, een voertuig en scenery, 28,50 voor het regelboek). Wel is of komt er een gratis online regelset voor 40K (maar niet voor de datasheets). Daar staat tegenover dat GW via haar winkels speelruimte en ondersteuning aanbiedt die eigenlijk ook verdisconteerd is in de prijs. De concurrentie biedt dat niet.
Het is een grappig funspel
Het spel mist diepgang. Toch is het in zijn soort wel goed:
Sigur: "I play a lot of different wargames, so I guess my perspective is a bit different to someone's who plays ONLY 40k and thus probably views these changes as being much more drastic than I do. But I really fail to see the huge changes. It's still 40k, a game about bashing heads in the far fantasy future, getting many toys on the table and have fun. If I want to play a wargame in the same setting featuring how people actually react to firefights and featuring friction, command & control and all of that I'll play Tomorrow's War, 5150:Star Army, Chain of Command, Quadrant 13 or maybe Future War Commander."
Geekadelphia: "I never thought I'd find myself saying that Warhammer would be a game anyone could just pick up and play. Games Workshop has caught lightning in a bottle with this one, "
Creative Twilight: "While the rules have been simplified, there's no less depth to the game than before (…) The game is just fun. (…) I also find the game just feels more coherent (…) the game kept evolving, getting more complicated, as they had to bolt on new rules to cover things they never envisioned before, like flyers, super heavies, etc. I feel that 7th optimized that bolted-on feel, and it just never flowed quite the way it should have, and that became very apparent after one game of 40K 8th.
Het is Yahtzee. Het is mens-erger-je-nieten. Het heeft een hoog, veel te hoog Transformers-gehalte. Maar mens-erger-je-nieten of Yahtzee kan hartstikke leuk zijn, en met bier en chips is een Transformersfilm best een keer te pruimen. Toch maar een keer proberen dan?
Hmmm. Misschien eerst levende kikkers eten.