The poet Howard Nemerov once wrote the beautiful poem "A Life'
Innocence?
In a sense.
In no sense!

Was that it?
Was that it?
Was that it?

That was it.
I remembered this poem when busy with my newest toy for my toy soldiers table, the integrated wargame buildings, LED-lighted, from Wargame Model Mods. From the range I bought the relatively cheap 'object pack'. Three different objects. I expected a lot. Construction is easy.
When finished I was… disappointed. Was that it? Was that it? Was that it? It's not bad, but … not a grandiose light effect that illuminates my table just like the Eiffel Tower illuminates Paris. I don't know what it is. My taste? The design? The green colour of the LEDS?
I glued paper scenery pics on the buildings to improve the look. And I added foamboard. That was it.
In the dark and as a trio, the effect is ok, see the pic on top of this blog. In daylight the final result disappointed me.
As you can see I modded the two objects above because they didn't convince me, but they remained 'desk lights'. Boxes. Flat boring stapled matchboxes with green led-lights. Even after modding they didn't look 'right'. I tried several different colours, glued panels, added paper prints, alien plants. It didn't help.
The only object that looked fine was object 3, a low building with dividers.
So I think it must be the designs of the objects: the tower and the matchbox with fins are very simple, in fact too simple designs. Maybe WMM's first try. For comparison, aTTcombat lasercut 10mm skyscraper, below.
Other (later designed?) Wargame Model Mods-buildings are much better detailed.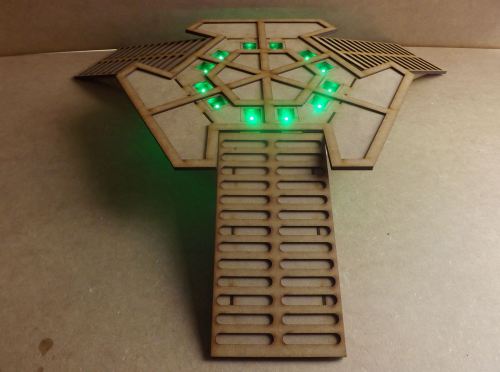 And WMM's recent LED-lighted game-tiles, for example, look fine, to be honest. I'm seriously considering buying a few.
Verdict
I think I will use two of the LED-lights in TT-combat buildings and only keep the low building.
Was that it?
That was it.