What is the best scale for Napoleonic wargaming? Looking for perfection, I compared wargame pictures of one famous Napoleonic battle, yes, THAT one, to check what was the most 'beautiful', 'realistic' Napoleonic scale. 28-20-15-10-6-2mm (healthier men than me google for nude pics of Hollywood actresses. I search for model soldiers. I'm a sad man.)
I thought I would conclude that my beloved 6mm would finish first. Actually it's not that simple. Check below.
Real Waterloo
28mm Waterloo
Waterloo in 20mm – 1/72 Airfix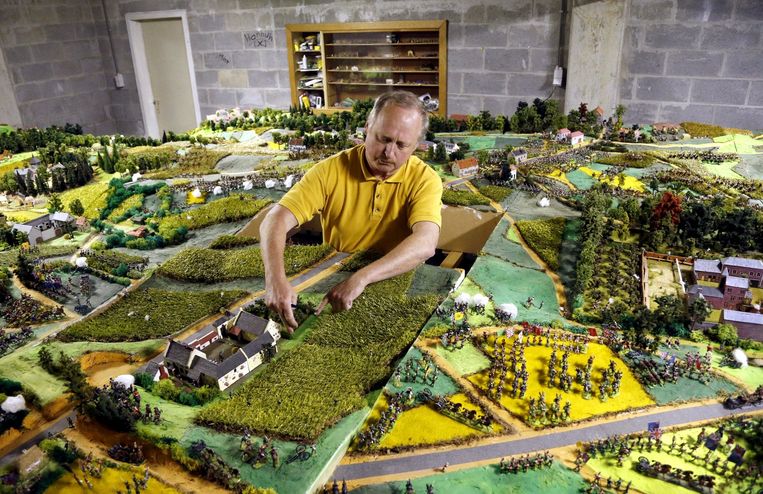 15mm Waterloo
10mm Napoleonic
6mm Waterloo
2mm Waterloo & Leipzig
Command & Colours Hexed Waterloo Board with Irregular 6mm
Final judgment after comparison
28mm
The 28mm battlefield is a stunning view. Pictures and miniatures are excellent. Look below.
The 28mm miniatures above are impressive. However, this goes with the assumption that 16-30 line infantry figures and 2-4 skirmishers represent 500-1000 real soldiers. Most Waterloo grand battles looked unconvincing to me. I have the impression that too many 28mm Waterloo wargames are nothing more than large phalanx battles with victory points Haye Sainte, Hougoumont, the ridge and Plancenoit. Correct me if I'm wrong.
For skirmish games like Sharp Practice 28mm is unbeatably beautiful, IMHO.
20mm (1/72)
20mm/1/72 niniatures have better proportions. Compare the elegant cavalry below with the überfat bulky miniatures above.
The scale is popular for diorama's. These are fantastic, btw, see above. The grand scale diorama's are the best miniature porn I have ever seen.
I have doubts about the Waterloo wargame, though. Many 1/72 wargamers tend to use the same basing conventions as 28mm wargamers. So the unit size is the same. Often, gamers adjust movement and shooting ranges or place a few more miniatures on a base. I doubt if the 1/72 wargame battles with 16-24 figures look more convincing than 28mm battles with the same unit size. But 20mm with adjusted rates gives you more maneuvering space on the tabletop.
15mm
The 15mm games are really beautiful, I don't know why you would play 28mm while 15mm is just as nice, good detail, easier painting… According to my sources on the internet 15mm gamers promote more miniatures per unit compared to 28mm and shorter ranges/distances, so you have more maneuvering space and more a mass battle feeling.
10mm
I started with 6mm when I was given a Baccus army as a present and never looked back. On second thought I must admit that 10mm is a splendid scale to represent a large battle while you still can see details. It might be even the best scale if you like a tactical Waterloo game with formation changes, squares, attack columns etc. Difficult to choose between 10 and 15mm.
My beloved 6mm
A well-prepared 6mm tabletop, like above, gives me the proper mass battle feeling that Waterloo should have. Grymauch does a neat trick, he paid a lot of attention to his terrain. That's the main lesson, the smaller the scale, the better the terrain should be. Compare his pictures with the dead view of a 6mm battle on a too empty board, below.
Grymauch used 5-6 15x15mm bases per battalion = 30-36 cramped on 30x45mm. So visually, you have dense blocks on a small space and lots of room to maneuver on the tabletop.
And many bases and a lot of units to manage. As a consequence, Grymauch's turns lasted relatively long IMHO, he wrote:
" I never actually timed how long each move phase took but I would guess on average it would be around 15-20 mins. When the Prussians had arrived it took longer but I doubt it ever exceeded 30 mins and that would have been moving a significant number. "
He was solo gaming. I played a 4-player Over the Hill yesterday against opponents, 6 bases per unit, and I grew impatient sometimes because 20-30 minutes waiting is slow.
So my personal conclusion is that very large 6mm battles like Waterloo should be played with dense blocks of units on relatively small unit bases and with an abundance of terrain. And preferably with 'strategic' or grand tactical rules instead of purely tactical rules with formation changes, because you otherwise lose track and lose gaming time managing the game/the grand battle. If your opponents have plenty of time, no problem. But I wouldn't like it.
So that's my second lesson learned, the larger the battle, the quicker the rules should be. I would probably buy 15mm or 10mm if I preferred more tactical games and more detailed painting, but 6mm-players like me should stick to grand tactical rules like Blücher, Polemos and Volley and Bayonet.
2mm games
Hornsby describes the units in the picture as: "The troops you see are the (from left to right) 6 companies 1/95th Rifles (front), 6 companies 27th Dutch Jagers (rear), 6 companies 5th Dutch Militia, 6 companies 7th Belgian Line Infantry."
I beg to differ, though. The miniatures are too small in my opinion, the bases look very similar. I don't recognize te 1/95th Rifles. I see green pinheads. 2mm wargaming is landscaping, not miniature painting. Sorry.
Movement scales might be correct. Grand scale strategy, like pincher movements and central position, make a difference. In these aspects 2mm is superior.
Command & Colours
The C&C hex and blockgame gives us excellent game mechanics. With small miniatures it's just slightly more imaginative than the block game. Here I miss the landscape. As a game it's one of the best but it looks unattractive, it still looks like a board game.
So?
In the end love is in the eye of the beholder.
28mm looks fine but subconciously gamers make great compromises if they play. Try a skirmish instead.
1/72, 15mm and 10mm give a more convincing big battle look
10 mm might be the best allround scale. You can zoom in to Plancenoit and play a tactical battle, or zoom out to the battlefield and play a corps game like Blücher. Just don't bigbase them.
Densely packed 6mm units are best for grand tactical games (but let me immediately add that I had perfect 1/72 Blücher games)
2mm and hexed board games represent the connection between strategy and tactics and don't lopside ranges. Napoleon marched to Waterloo executing his favorite central position strategy, and lost because he split his army and had lost track of the Prussians. Capturing Hougoumont or not is just a footnote.