For my Market Garden (and other Dutch-themed) 6mm wargame tables I was looking to find the 'right' bridge and the 'right' cathedral (read my part I here). I have bad news and good news.

The bad news
The 'right' bridge doesn't exist, not even in 6mm. The real Arnhem bridge only, not counting the approaches, is more than 600 meters long, which is in 1/300 still 2 meter.In other words, I need more than a full 6×4/1,80×1,20 table to depict the Rhine river and the bridge over this troubled water. Gosh – for a moment I thought about quitting this hobby. 1:300 is that small. I had never realized myself that the real bridge was so big. The other bad news is that for other Dutch bridge battles you don't need just one, but several bridges in 6mm scale. Check Rotterdam, below:
Or Dordrecht 1940. We Dutch often built twin bridges. Or double/triple bridges: below almost-as-famous Nijmegen bridge (check this epic Robert Redford scene from 'A Bridge Too Far')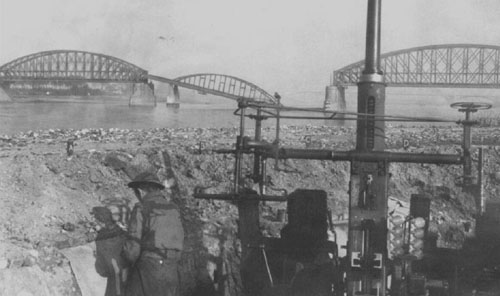 Arnhem also had two bridges, not just one: the famous bridge and the nearby Oosterbeek railroad bridge that was the other iron bridge on the target list. Unfortunately the Germans blew up this bridge on the first day of the operation.
The good news
This is a miniature game on a condensed scale, and like a boardgame, miniature wargame tabletops are not 'realistic' – just a simulation. So I can live with a 30mm bridge which is actually 1/1800 scale. Besides the street battles were fought on the northern river bank so – depending on size of the depicted tabletop battlefield – I only need to represent the northern part of the bridge. Not the full bridge. Several manufacturers make bridges.
Leven sells (Remagen) piers (10 GBP) for the Märklin 22cm Z-scale 8975 bridge (15GBP). Total 25,- Leven's own 'iron' effect arched bridge is just 8cm and without much detail.
The Baggage Train sells a complete bridge including embankments: "1 main central road section, 2 approach road sections, 2 pier sections, 2 pier sections, 2 sets of embankments and 2 end pier sections". Sounds like a good deal and I liked the pictures.
36 GBP however. For just one bridge.So in the end I bought simple but sturdy 6mm laser cut cardboard bridges from Iliada Studio's
Two rectangular bridge sets (2×10$) and two curved bridges (2×7) = 34$. Piers and approaches are simple to DIY. The studio can make longer or wider bridges on request.

White glue, grey primer, black wash, silver drybrush and a bit orange rust. Yes, eight bridges, but as said, Holland WW2 wargaming is more than just one bridge near Arnhem center. We Want More!

The Cathedral
Arnhem, Nijmegen and Rotterdam have cathedrals. Big cross-shaped churches. Below the Stevenskerk in Nijmegen, a frontline church in 1944.
My regular suppliers don't sell cross-shaped 'cathedrals': when researching, I understood why.
The Eusebius-church for example has a 91 meter high tower (30cm in 6mm) and a truescale 6mm cathedral building should have a 20x30cm footprint, minimum. A 'Dutch' church has the tower in front and not in the center and is gothic, not Normandy or English stone. So the Leven St Lawrence Alton church, or the St Mere Eglise church in a different colour are not the right models. Definitely not.

Timecast sells another version of St Mere-Eglise and the Oosterbeek church.
Again, this is a small parish church and not a Dutch city cathedral. I also checked Irregular, with their good 6mm scenery collection. Ditto, only parish churches or small English medieval churches.
Total Battle Miniatures sells a beautiful 'Grand City Building' with a church-like dome, but without tower.
JR Miniatures – now gone – once produced a perfect cathedral, although the resin was 'crappy' according to the owner.
If you find this model on ebay, grab it!

No 6mm? Then 10mm or 3mm
A reasonable option might be the 10mm cathedral from Hovels. Complete..

or in ruins
It's a Medieval Romanesque, not a Gothic or Renaissance cathedral. So it's second best. My good luck own model was found at Crisis, actually it's a Jens Najewitz 3mm cathedral.
Cross-shaped and tower in front. Just as needed. I placed it on a higher base (40x80mm) and painted it white instead of regular brown to make it stand out. Again, like the Arnhem bridge, scalewise it's too small, but optically it's perfect. Najewitz sells it at shows only I understand. I was lucky.
It's not the Eusebius church, or the Nijmegen Stevenskerk. But it emulates a city cathedral and I'm happy.

…or a paper model
If you can't buy this model:a last resort would be Schreiber Bogen or a similar papercraft model. I'd advise to build the 30cm bell tower only, for optical effect. A sample of the whole big building below.
I also googled 1:600 .paper models that might look good on the tabletop, never ordered though.