I'm trying to adapt to the 21st century, becoming more a multimedia blogger. And with the great LWTV how-to-film-guide as a starter (the 3-part-masterclass), I experimented with software and gear.
Here's what I did, and bought, so far. My tips:
you don't need a special camera. I made videoclips with my cell phone, a standard 2019 Fairphone 3 with a standard camera lens. price: 0,0 (apart from the base cost of the phone, of course)
I also used my old digital photocamera on a tripod (in video mode) and a ten year old video cam. price: 0,0€.
I started with Imovie for Windows, price: 35$. The free version has a watermark. Imovie has templates for trailers and music tracks.
Technically, that's all. However, I also bought the Kodak smartphone kit, with tripod and extra lenses, to make extreme close ups or extreme wide shots. price: 35-40 €$
Better audio
Good sound is important, as I discovered quickly. If you want to make a wargame clip, and interview players in a noisy club building, use a mic.
I use voice over. A cheap robot voice over, totally free for personal use, is Natural Readers. I think I'll use it for English vlogs, I hate my own Dunglish.
I did my own voice over, and first used my Logitech G332 gaming headset with flip-to-mute mic. It's still suboptimal, so I bought a Thronmax Mdrill Zero Plus, price: 53€.
LWTV pointed me to the Youtube Audio Library (via YouTube Studio) and Freesound. Price: 0€
Better video
I didn't stick to IMovie. It's perfect for the absolute beginner, but Adobe Premiere is the more advanced standard. Move objects / pointers on a map, for example. So after a few IMovie clips I bought the PhotoShop/Premiere Elements Bundle, price: 85€
Pixabay and Pexels offer free pictures and video. I made my Bridge To War logo with free pixabay pics in Paint3D.
You need a trailer. Below as example a free template from IMovie, that I changed into a professional trailer with free pics and a free clip from pixabay.
Better camera shots and angles
I recommend the LWTV-tutorial. If impatient, check this Tangible Day photography blog. All recommended photo shots mentioned there are similar to the video shots you need.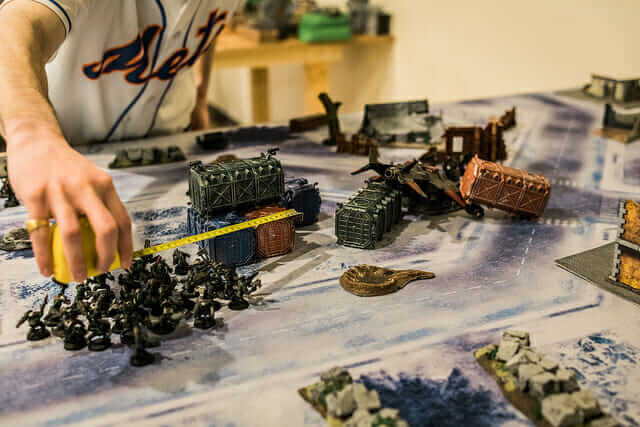 Add shots from players, portraits, medium portraits, wide shots with the group moving around the table, and mix it to a 10-minute clip (max).
Don't underestimate the time to finish the clip. For us amateurs, every clip minute will cost you an evening, On the other hand: endlessly painting miniatures is boring, sometimes. Variety is the spice of life.